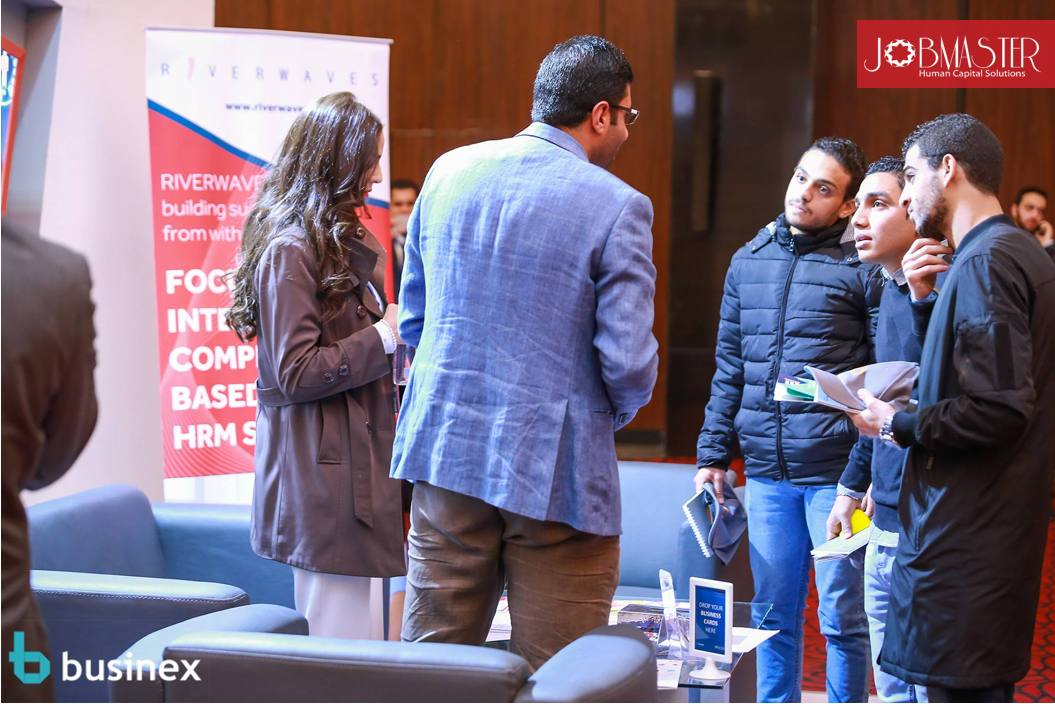 JOBMASTER Lounge at Businex
Cairo, Egypt, January 24th, 2018:
A fresh view for your number one HR Company
From the founders of Engineerex, the international engineering and technology hub, Inspira brought to you a new business platform called Businex. It serves all the corporate needs since it incorporates business talks and workshops, talent matching through the employment fair present there, programs and competitions and executive business lounge where JOBMASTER team was based since we were the HR strategic partner of the event. The event was held on Saturday 20th of January 2018 at Dusit Thani Lakeview, New Cairo city, Egypt
With our exquisite location at Businex, JOBMASTER's lounge was able to attract all the HR professionals and provide-as usual- their consultation to whoever was interested in our services and the field of HR in general. Not only that, but the lounge also included two side events instructed by the company's highly qualified experts in their areas. The first discussion was about the Multigenerational Dynamics in the workplace where Hassan Helmy, the HR Consultant at JOBMASTER, explored the difference among generations in the workplace and understanding how these differences are being tackled from the employers' side.
The second talk was a roundtable discussion on the Compensation Trends and Challenges in Egypt. In this talk, the attendees were able to have a look at the future of the businesses in Egypt after the devaluation of the national Egyptian currency by being introduced to the new market pay trends in the recent years. It was conducted by Rozana Hafez, HR Senior Consultant at JOBMASTER Group who took the participants through the optimum way SMEs can follow to identify the critical positions and evaluate the weights of different jobs, hence compensating their employees.
Our role as strategic partners gained the attention of so many business owners who were eager to explore our services and new customers had the pleasure meeting JOBMASTER's team.
About Inspira:
Inspira X is a community creator; aiming to spot and connect scattered communities who have a potential of high, nationwide impact. Our communities are as diverse as we are. By using a mix of offline and online activities, with an expo as our human-connecting element, an Inspira X community is born.
For more info, please visit the website: https://inspiraconnect.com/
About Businex:
Businex is the next big event to hit Egypt's business community. It is the first of its kind hub, where the business community is gathered for a day full of opportunities & inspiration for anyone who is related to business field.
For more info, please visit the website: www.businexhub.com