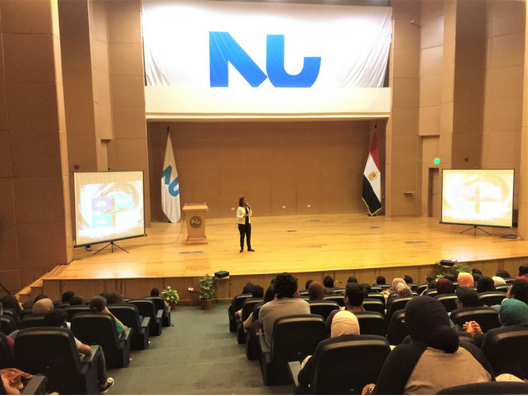 FROM FRESHMEN TO GRADUATES: iSpark and JOBMASTER are doing it again!
Freshly starting the academic year, JOBMASTER has joined forces with iSpark in their latest orientation event at Nile University for 2018 newcomers as a part of our role in supporting & developing young talents. The main objective of such collaboration was to give young people a closer look into the new phase they're about to face through helping them understand the gap between what they used to do at school and what skills they would find essential in their university education and real life.
"Skills for the future" was the title of our session provided by Marwa Assal, Senior HR Consultant at JOBMASTER, which was mainly tackling the importance of Collaboration, Social Intelligence and Cross-Cultural Competencies that are rarely taught but are equally essential skills that students should attain to put their univeristy life in action.
Moreover, other skills were discussed along with the previously mentioned such as how to critically and creatively think to have the ability to analyze any piece of information received and become the next "Mental Gymnast" by being cognitively flexible; swipe from one thought to the other quickly which increases one's mind flexibility. We couldn't also deny the fact that every university student needs to be the "Wicked Problem solver", in other words they need to have the mental elasticity to solve complex problems that automatically evolve on daily basis with all the dynamic and complicated forms that a problem might take.
Aside from the interpersonal skills students should gain, they also need the technicalities to help them easily indulge in the university life and its work load. First of all, Students need to become Technology Literate about the latest media formats such as videos, blogs, and podcasts that now dominate our social lives, as well as being constantly updated with new applications user-friendly editing tools in terms of knowledge of fonts and layouts to easily present their work.
Last but not least, Mrs. Assal urged the undergraduates to cultivate those skills in several basic steps that would turn their future upside down:
Learning new ways of thinking hence new perspective of life

Allocating their interests with their actions so if someone is not the creative type and more of analytical person then they should take the first financial/economical magazine they can find and read it

Expand their circle of friends and start knowing people from different backgrounds, they'll definitely learn something new that they might not know that it exists from the first place

Finally try new things like enrolling in extracurricular activities, volunteer work, learn new hobby, etc.. As all of these are the main formula of creating their experience and accordingly their personalities…