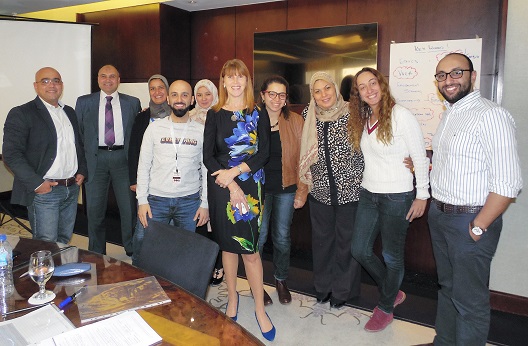 CIPD: A Leap into the HR Field
With the belief of endless development and commitment of delivering the best quality of international trainings, Oakwood International and JOBMASTER partnered to convey the CIPD certificate (Chartered Institute of Personnel and Development) in Egypt. The most recent Level 5 workshop was conducted on 25th till 28th of February 2018 in Renaissance Cairo Mirage Hotel which was instructed by Oakwood's certified CIPD Associate, Deborah Groves.
A closer look to UK's HR qualifications awarding body
CIPD is considered a fundamental requirement from HR professionals nowadays to practice the HR field since it is perceived in companies as an International HR passport to the holders of such credible certificate. It also extends its holder weight as he/she will be upgraded automatically to Associate and can use the designation "Assoc. CIPD" in their signatures and business cards, in addition to its international accreditation across 90 countries and is considered a reliable source of information in terms of statistics when quoting in business articles, presentations, etc...
The three existing levels are 3, 5 and 7. In Egypt, JOBMASTER offer levels 3 Foundation level qualification and 5 Intermediate level qualification in both HR and L&D tracks while Level 7 is offered exclusively in UK and started recently in Dubai. Each of the mentioned levels have 3 modules through which attendees undergo a 360 view about the program. As for the level of attendees, it is determined based on the nature of their HR exposure and capabilities. For instance, HRP Foundation qualification level can accommodate positions like HR/HRD Specialists, HR Officers, Administrators and so on, whilst HR Intermediate qualification level offers tailored approach for HR professionals based on their work commitments.
So what does it take to obtain the diploma?

Attendees should go through the entire level with its 3 modules which take around 6 to 8 months from 9-5pm held in 5 consecutive days and between each module, there's a duration of 4-6 weeks so that the students can have time to finish the required assignments and apply the knowledge they acquired. Oakwood's role doesn't end to this, they also keep in contact with JOBMASTER to follow-up on each student and keep track on their progress as well as the advantage of granting continual guidance and support via the 24 hour online student platform that the program offers.
If you still want to join the 135,000+ members of CIPD holders, please feel free to contact us via businessdevelopment@jobmastergroup.com