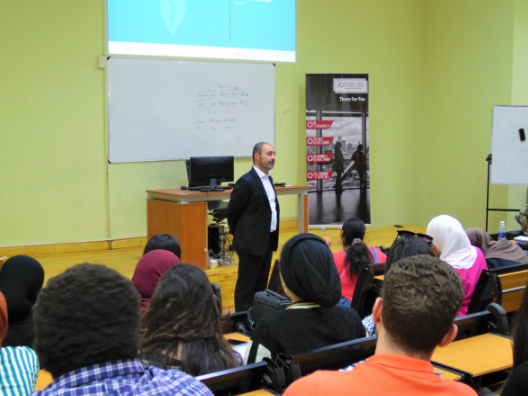 How One Company Finds Alternative Ways to Support Younger Generations: The Partnership Of JOBMASTER And British University In Egypt
Did you ever get the chance to see your future self in the market? How you'll behave when you actually get the job? Well, I guess not! But JOBMASTER made it happen through the collaboration with British University in Cairo (BUE) to deliver Competency Modelling lecture and its application in the workplace to HR major students. The lecture took place on October 11, 2018 at BUE's premises by JOBMASTER's CEO, Hisham El Badawy.
Aside from theoretical knowledge, BUE students were able to have hands-on experience on how to successfully perform when they get into the world of business by understanding themselves or in other words, become competent for their jobs. Hisham El Badawy took them through a detailed explanation of Competency and how HR departments in organizations use Competency Based models to create tangible outcomes on individual level, HR function level and organizational level. Moving forward to the application, El Badawy gave them a full exposure on the tools used to measure their own competencies and ending up his lecture with an interactive discussion with the students by analyzing a movie scene and extracting the relevant competencies that were observed.
JOBMASTER is seizing this opportunity to thank Prof. Ahmed Hamad, President of BUE, Prof. Wadouda Badran, Dean of Business Administration, Economics and Political Science and a very special one to Prof. Hazem Halim, Professor of HRM for making this session happen and be able to see our future rising stars glowing…